Are You Delaying a Business Phone Upgrade? 
We Upgrade Smartphones Nearly Every Year, Why Not Business Phones?
Have you ever dropped an iPhone only to crack the screen? How about jump in the pool with your mobile phone in your pocket? Even if you have never faced these scenarios, chances are your smartphone is more up to date than your office phone. While major telecom carriers from Verizon to AT&T to T-Mobile encourage us to upgrade when the latest models are released, many businesses rely on outdated phone systems.
There are several reasons why a smartphone is more likely to be upgraded than a phone system in a business. Three of the primary reasons businesses delay upgrades include: executive visibility, poorly known features and poor incentives.
C-Suite Decision Makers
Many decision makers for technology rely on smartphones or gatekeepers to handle communication. Workers, front office staff and administration often communicate with desk phones the most. Unfortunately this group is not who decides to upgrade.
In enterprise businesses, IT Departments have limited budgets and may prioritize replacing laptops and computers over older VoIP phones or traditional PBX systems. The result is a phone upgrade that is long overdue. When phones are finally replaced, many employees realize the upgrade should have happened sooner. The experience of all the new features and ease of communication is often felt after an upgrade is made.
Poorly Known Features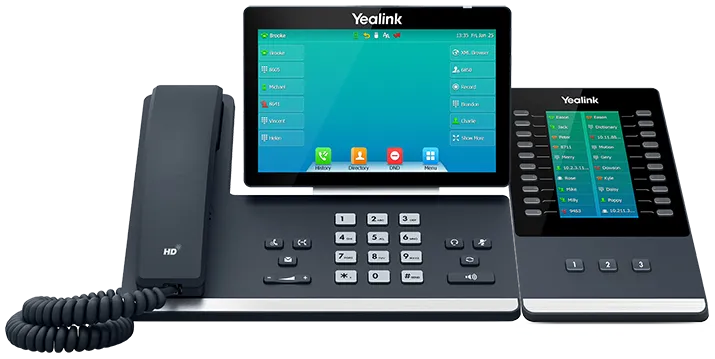 Most people realize the benefits of upgrading an iPhone 14 or the latest Samsung Galaxy. Even minor changes to the software or additional megapixels in the camera are enough to convince thousands to upgrade.
Ask business owners if they know how to join an audio or video conference with their desk phone and the results aren't too surprising. Another test, Call flip an active phone call from a smart phone to a desk phone and vice versa.
While many of us understand that smartphones are mini computers in our pockets, we fail to realize the full benefits of the latest IP phones. The reality is new office phones look more like a computer and are no longer used for simple voice communication. Instead, they are capable of audio and video conferencing, secure file sharing, SMS, chat and more.
The newest VoIP phones provide a variety of communication and collaboration options for flexibility and productivity. Whether that communication is internal with other employees remote or in office, or client facing.
Poor Incentives
Here is a crazy statistic: over 5.3 billion mobile phones are estimated to end up in the garbage in 2022. Many of these smartphones still work and do not have cracked screens or water damage. Contrast with a common euphemism, If It Ain't Broke, Why Fix It? Which is frequently used to avoid upgrading technology in the workplace. It is so prevalent in IT that major upgrades are often completed during major changes to business operations or an office building.
Many of us would never apply the same thinking to a smartphone, why? It comes down to incentives. We all get SMS text messages from Verizon for trade-in discounts when our 2 year old phone is now paid off. While many business phone brands do offer buyback incentives, they aren't as well advertised or known. For example, ESI, a business phone company based in Texas, offers credit  to existing ESI clients that upgrade to newer on premise systems or ESI Cloud. Mitel offers 3 months of free service and competitive pricing to customers that move to RingCentral MVP.
Reasons Businesses Eventually Upgrade Phone Systems
1. Business Relocation
Many businesses upgrade phones when they are finally ready to move buildings. Moving from an older office to a newer office or even new construction is common. Replacing phone systems is often cheaper and easier than attempting to move and connect old hardware in a new space.
The last decade has continued to bring new businesses to Texas from other states. Many are leaving behind phones, conferencing and audio visual equipment. Even within DFW, moving from Plano to Fort Worth is likely to lead to a different internet service provider, phone carrier and fiber connection.
2. Growth of Locations, Change in Operations
Adding new satellite offices in other cities, states and countries, often leads to a reconsideration of phone capabilities and cost. Since 2020, many businesses have downsized office space. Adopting hybrid work models has led to a need for better collaboration and communication with remote workers. Invest in the right technology, and employees can stay better connected and continue to be productive.
Phone systems for hybrid workplaces, offer features such as hoteling and hot desking. The latest IP phones allow employees to share desk phones with each other. This aligns with the latest trend in workplace design, offices that mimic coworking spaces. Think open concept with shared workstations, couches, standing desks, meeting rooms and more. Employees have freedom to move around the building and be productive wherever they want to be. Phone systems no longer need to tether employees to a desk.
3. Mergers and Acquisition
Companies that have completed M&A may force adoption of a phone system favored by one party. It is part of the redundancy that often gets cut to save money.
4. End of Life
There are many small businesses that wait a decade or more before upgrading to VoIP phones. Many are encouraged to upgrade after a phone model is no longer supported and reaches end of life or crashes. At c2mtech, we are seeing fewer on-premise phones with Samsung, Toshiba and recently Mitel announcing an end of life transition to RingCentral. 
5. Customer Service
Recently, c2mtech worked with a NAPA Auto Parts store in Waxahachie. Two years earlier, the location migrated to a low cost cloud phone system. After 12 days of the phones not working and no response from customer service, the location upgraded to ESI Cloud. If your business experiences an outage for a week or more and can't contact your phone service provider, it might be time for a change.