At c2mtech, our phone technicians, audio visual consultants and cabling team are always learning, expanding certifications and training. We constantly evaluate our client's needs and requirements with those of our technology partners.
Today, we recognize more of our technicians for getting certified in Corning Fiber's See the Light® Design and Installation Course. The hands on, instructor led training was completed in our Carrollton headquarters over several days. Our company now employs a total of seven certified fiber contractors with Corning.
C2mtech installs, extends, splices and repairs fiber optic cabling in a variety of buildings throughout Texas.
We partner directly with business owners seeking an upgrade to existing structured networking infrastructure. Our company has relationships with all local Internet Service Providers.
General contractors rely on c2mtech's technicians during new construction projects, extending fiber connections to work stations, for wireless access points and VoIP systems.
We provide emergency fiber repair to businesses as a result of storm damage, construction, accidents and more.
Our technicians provide fiber termination and testing to building owners and tenets.
We have experience working in high rise office buildings to strip malls to warehouses to hospitals and more.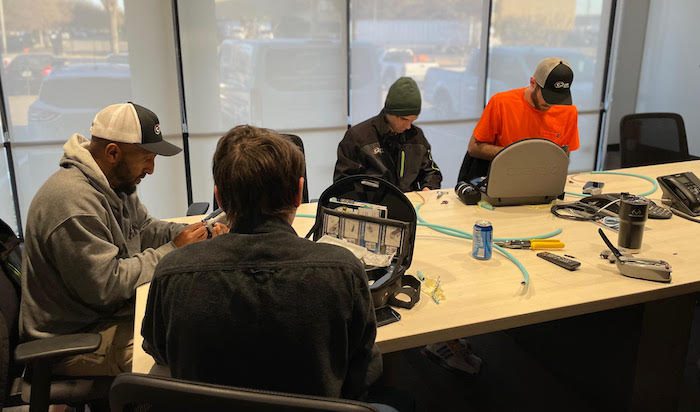 Newly certified Fiber contractors are Ryan, Samson, Trevor and Joseph.