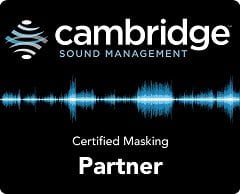 Since 2017, c2mtech has been a registered partner with Cambridge Sound Masking. Nearly a year later, Biamp acquired the leader in sound masking technology.
In May, c2mtech's team completed training and were certified for Cambridge QT X. The entry level sound mask system from Biamp can control three zones up to 36,000 square feet. Each zone can be independently managed for sound masking. The QT X can also be used as an amplifier, controlling paging systems to background music players.
Within Texas, Sound masking is becoming more popular in recent years. According to Google Trends, it reached a peak in search volume at the end of 2021.
Sound masking is becoming more recognized as a tool to increase privacy, reduce distractions and improve productivity. For hybrid office workers that feel more productive at home alone, sound masking reduces noise distractions. At its best, it works and makes a difference without anyone knowing it is there.
It can be installed in a variety of buildings and environments from coworking spaces, retail businesses, restaurants, hospitals, industrial warehouses and factories to schools.
If you're curious about sound masking or would like a demo at your workplace or building, contact c2mtech. The award-winning installer of business communication technology serves clients throughout Texas.