Expands Partnership with Ruckus Networks and CommScope
c2mtech, a business communication company headquartered in DFW has achieved Elite Networking Solution Provider. Benefits include wholesale pricing on Ruckus products, authorized installer status and additional sales and marketing support.
"The Elite status is a validation of successful installations, sales growth, customer support and training on Ruckus solutions," said Ben Brinkman, President of Sales at c2mtech. "We look forward to future growth as companies and organizations upgrade wired and wireless networks."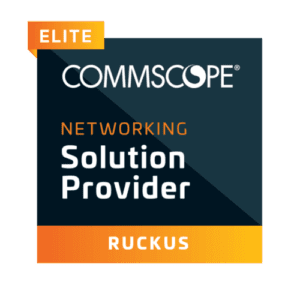 c2mtech first partnered with CommScope in 2015 on network cabling for internet and VoIP connections. Ruckus Networks became our preferred solution for wired and wireless internet in 2018. In 2019, Ruckus Networks became part of CommScope via an acquisition.
Fewer than 10 companies in Texas have achieved the Elite CommScope Networking Designation. Recently, Frank Pena completed the Ruckus Wireless Portfolio Sales Engineer training and Wired Portfolio (ICX) Sales Engineer certification.
Completed Ruckus projects include North American Precision Metals, a Fort Worth based manufacturer. Ruckus Cloud Wi-Fi was installed via multiple access points to provide strong coverage in a large warehouse and industrial complex.
c2mtech also connected The Gathering Place, a new K-12 public school in San Antonio. To start on the new construction building, fiber optic cabling was installed to support Ruckus equipment. Next, twenty-six wireless access points were positioned throughout the campus for indoor and outdoor Ruckus Cloud Wi-Fi coverage. After extensive network testing for security and bandwidth, the project was completed.
View more projects and learn more about c2mtech's partnership with Ruckus Networks.