c2mtech Taps SureCall for Partnership
Telecommunications Firm Strengthens Mobile Signal Capabilities
'Can you hear me now?' is both a famous marketing slogan and a frustrating question to ask on the phone. Despite more than a decade of high smartphone adoption and years of development in cellular technology, signal strength is still a problem in many areas. Not having a reliable mobile signal is not only frustrating, but a liability during emergencies. A dropped call to 911 during an active shooter, could mean the difference between life and death.
Improving indoor signal strength has become a priority for commercial properties, educational institutions and municipalities. Although Texas cities continue to grow, even in urban environments signals can be poor or nonexistent. Large corporate campuses, multi-story residential properties and complex building designs can create signal loss and degradation.

"SureCall is a leader in boosting cell signals in the office and commercial buildings," said Ben Brinkman, President of Sales at c2mtech. "We look forward to improving reliability in cellular communications with SureCall's affordable technology."
Active DAS vs Passive DAS
For years, Distributed Antenna Systems have expanded indoor and outdoor cellular signals. A robust solution, Active DAS adds capacity to the network and communicates directly with carriers, improving signal strength. These systems are often installed in large venues such as outdoor arenas, government buildings, universities and airports. Active DAS can even be installed in remote and rural areas with poor or no cellular coverage.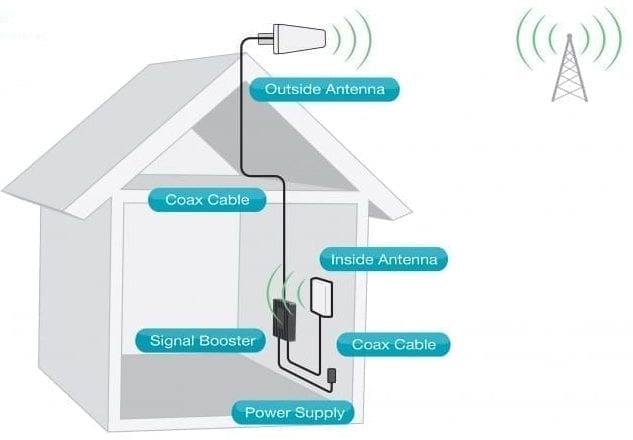 Some downsides of Active DAS are power requirements and being carrier specific. Cost-prohibitive for many properties and building owners, Active DAS is expensive to install and monitor. In addition, carrier approval takes time and can delay system launch.
SureCall on the other hand is a Passive DAS solution and is carrier neutral. Relying on existing signals via nearby cell towers, this type of DAS is also known as a signal booster. It also relies on components that do not require power. Compared to Active, Passive DAS is easier and more affordable for small to midsize buildings. Best of all, it only takes a few days to weeks to setup.
SureCall has several other benefits that differentiate it from other Passive DAS systems. A cloud-based solution, SureCall features remote monitoring for security and performance and is FCC approved. SureCall can also be scaled to boost signals in buildings of any size. A single booster can serve a commercial property of 25,000 square feet and multiple boosters can be integrated for larger spaces.
About SureCall
SureCall is the multi-patent, award-winning performance leader for cell phone signal boosters. Since its inception in 2001, SureCall has quickly grown to innovate at the cutting edge of the industry, winning back-to-back Inc. 5000 awards every year since 2016 as well as the 2017 & 2020 CES Innovation Award, among many other accolades. SureCall combines its patented engineering with top-quality materials and comprehensive lifetime support to provide best-in-class solutions for mobile device users to access dependable cell service in their homes, offices, and vehicles. As a result, industry leaders such as Chrysler, Marriott, NASA, and HP all trust SureCall's FCC-approved signal boosters for their quality, reliability, and performance.