c2mtech, a unified communications contractor for Texas businesses, announces it is a certified installer of Peerless AV. Ryan and Trevor Duelm, both brothers and AV technicians at c2mtech, completed training in summer of this year.
Peerless AV is an award winning designer and US based manufacturer of AV solutions. Products include mounting systems for commercial TV's, video displays and digital signage to integrated kiosks.
"We are excited to strengthen our partnership with Peerless AV", said Ben Brinkman, President of Sales at c2mtech. "For several years, Peerless AV has been our first choice for mounts for video walls and commercial display installation."
Ryan has been with c2mtech for three years, while Trevor is celebrating his second year work anniversary this September. The pair frequently installs Peerless mounts for corporate lobbies, conference rooms and outdoor digital signage.
At c2mtech, Peerless AV mounts are installed with display partners: Newline Interactive touchscreen displays and Commercial Samsung TV's.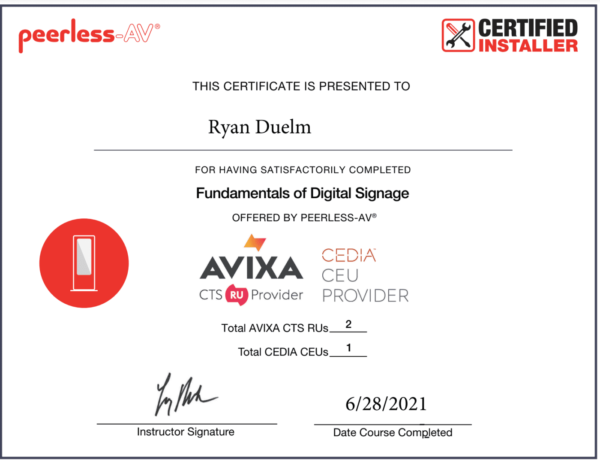 About Peerless-AV
Driving Technology Through Innovation
For over 80 years, passion and innovation continue to drive Peerless-AV forward. We proudly design and manufacture the highest quality products, including outdoor displays and TVs, dvLED and LCD video wall systems, complete integrated kiosks, professional carts and stands, and more. Whether a full-scale global deployment or high-volume custom project, Peerless-AV develops meaningful relationships and delivers world-class service. In partnership with Peerless-AV, you are trusting an award-winning team of experts who will support your business every step of the way. For more information, visit peerless-av.com.