Choosing a Phone System Partner for Your Business
Many businesses don't realize, a technology as simple as a telephone has gotten significantly more complex. Many options now exist on the market today: on site, off site, hosted VoIP, VoIP phones, digital phones, analog phone systems, and more. The reality is a strategic phone systems partner can lead to faster, cheaper and easier phone implementations. But where to begin? Below are 5 criteria for selecting a vendor.
1. Where are they located?
Nowadays, there are online-only business phone vendors, yet we find many clients value personalized service and in person consultations. Is the scope of your job for one building in the area, are you looking for a partner with offices throughout Texas and even beyond? Understanding where a potential vendor's technicians are located and how remote jobs are billed is critical to an evaluation. It's ideal to work with one vendor for all offices as it often leads to lower costs.
2. Are they qualified?
Does the vendor sell phones out of their home or has it been a business in operation for many years? Unfortunately, there aren't any state certifications for selling or installing business phones. Although a look at a vendor's website should reveal everything you need to know. Is it outdated, vague or poorly written? Ask for referenceable business clients similar to your industry or with similar technology requirements.
3. Do they partner with phone system brands?
You can't simply believe what a vendor has listed on their website. If they have a badge they are an Avaya Dealer, NEC Reseller, Mitel Partner, etc., confirm by visiting the phone system brand website. Or call the phone brand, as not every partner lists authorized re-sellers. Is the vendor listed as a qualified dealer? Becoming a qualified dealer isn't an easy process, it involves dedicated technicians, training, certifications and revenue requirements that need to be met.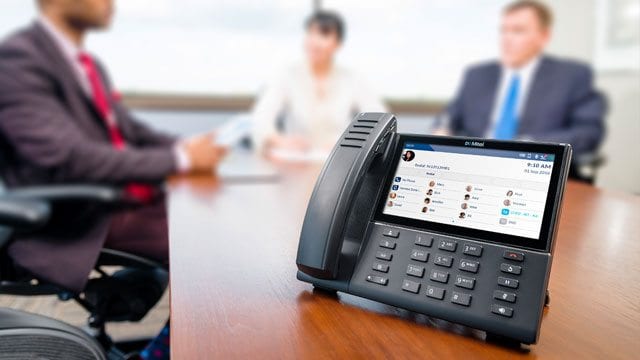 4. What is their size?
One of the benefits of working with a business phone vendor, is access to wholesale prices on business phones. The more revenue a vendor sells for a partner or phone brand, the more pricing improves on phone brands than in stores or even online.
5. What are their skillsets?
What phone installations does the vendor specialize in or do they cover all kinds? It's also important to note some vendors may not offer hosted VoIP packages, or allow for mixing analog phone receivers with VoIP servers. Some vendors only implement VoIP.
It's best to work with a vendor that can truly evaluate your business needs and recommend the best phone solution, which may be VoIP, but it maybe a hybrid solution. It really depends on your budget, the number of locations, employees and technical requirements.
Now think beyond phones. Does a vendor offer complimentary technologies? If you are building out a new conference room, you will likely need internet connections, computer networking, audio/visual equipment and more. Do you want to work with multiple vendors or a single technology partner?