c2mtech Repeats Inc5000 Recognition for Fourth Year
Telecommunications Firm Ranked as Fastest-Growing Company in 2016
c2mtech, a business telephone and IT consulting firm has ranked for a fourth year on the prestigious Inc. 5000. Inc. magazine's annual ranking of the fastest-growing private companies, is based on revenue growth.
According to the 2016 list, c2mtech is the only Texas based telecommunications company to rank four times. c2mtech first placed on the Inc5000 in 2010.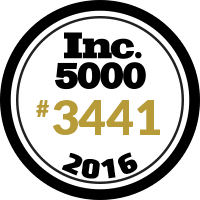 "Maintaining growth is what every business aspires to," said Casey Wedgeworth, CEO of c2mtech. "Increasing revenue and job growth year after year is the challenge."
Earlier this year, c2mtech announced a partnership with Mitel, a global provider of cloud communications. The partnership allows c2mtech to expand VoIP products and services.
In late 2016, c2mtech will move its headquarters to a larger space in Dallas. The new office will allow for a larger workforce in the years to come.
"Our business is growing in all branches: Dallas, Waco and Houston," said Ben Brinkman, VP of Sales. "With continued support from partners and customers, c2mtech can extend our mission to make technology easy."
c2mtech's Inc5000 listing is available at http://www.inc.com/profile/c2mtech. View all companies that ranked in the 2016 Inc5000 and narrow by state, industry and metro area at http://www.inc.com/inc5000/list/
About c2mtech
c2mtech installs, services and maintains business telephony, computer networks, data and voice over IP (VOIP), audio visual systems (AV) and security systems. c2mtech delivers truly integrated technology and communications solutions for clients in a variety of industries. Based in Dallas-Fort Worth, c2mtech is recognized by the Inc5000 and CRN Fast 150. Now celebrating 40 years, c2mtech has expanded to serve small business, mid-market and enterprise clients in Dallas, Waco, Temple, Austin and Houston.