2020 was a difficult year for on-premise phone system manufacturers. It began at the end of 2019, when two pivotal changes happened. The first which we will explore more later, is a partnership between Avaya and RingCentral. The second, Samsung Business announced a sunset of the OfficeServ PBX. New models would no longer be designed or produced, software updates would be halted and limited inventory would be available for hardware components. The end of life for Samsung office phones and systems, immediately shifted demand to the cloud.
Other manufacturers of on-premise phone systems, have either ceased operations or paused research and development. According to Gartner in their 2020 Magic Quadrant for Unified Communications, "Vendors are still selling premises-based UC, but investing little in feature development and innovation for on-premises deployments."
Market Share of Unified Communications by Business
Small businesses, startups and work from home entrepreneurs have already adopted cloud-based unified communications. For companies with fewer than 500 employees, managing on-premise voice infrastructure is expensive and delivers few benefits.
Midsize businesses with 1,000 to 5,000 users are more likely to adopt hybrid environments. Due to regulatory requirements or poor internet connections, on-premise can still meet the needs of employees in certain locations.
Enterprise organizations have been slower to migrate all employees to a cloud communication system. However, with the pandemic in 2020, office lockdowns and a remote workforce, this is changing. In addition, new innovations in unified communication platforms are allowing for a single vendor to handle voice, messaging and video conferencing.
Avaya and RingCentral Partnership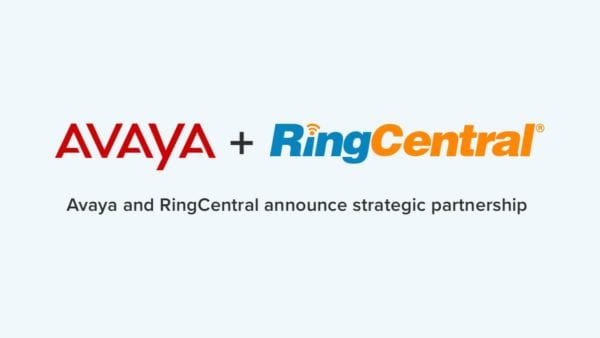 First announced in October 2019, Avaya partnered with RingCentral, a global leader in business cloud communications, to offer an Avaya branded phone system. It soon became clear, the ultimate goal was to migrate Avaya's legacy customer base to a cloud phone system.
Avaya, which is a combination of Lucent Technologies and Nortel has struggled in recent years. Starting with a bankruptcy in 2017, the prospects for the company quickly evaporated as software-first Unified Communication systems continued to steal market share.
Ranked as a Leader in Gartner's Magic Quadrant for Unified Communications for 9 consecutive years, Avaya was left out in 2019 and 2020. A failure to innovate was the main reason, as Avaya delayed upgrades to phone systems and continued to promote outdated technology.
When the partnership with RingCentral was announced, Avaya was still a global hardware manufacturer of phone systems, office headsets and equipment. The company held onto a large base of enterprise clients, but was losing small and mid-size businesses to UCaaS.
In contrast, RingCentral had created a robust software package for voice, messaging and collaboration and was growing rapidly. In fact, subscribers of RingCentral Office could choose from third-party hardware vendors including Poly (formerly Polycom and Plantronics),Yealink, Cisco and Unify.
Avaya Cloud Office was launched in February of 2020, at a critical moment before a drastic shift to UCaaS, caused by the Coronavirus. ACO combines RingCentral's software expertise with Avaya phones and hardware. Businesses with existing Avaya hardware including J-Series desktop phones, B-Series audio conferencing and the CU360 video huddle room will eventually be compatible with Avaya Cloud Office.
Migration tools are further in development for on-premise users of Avaya phone systems. Simple, fast and compatible with existing Avaya hardware, RingCentral will continue to provide innovative features and offers for Avaya's based to migrate to the cloud.
For companies with existing Avaya hardware, Avaya Cloud Office provides more compatible features vs RingCentral Office. For small businesses to mid-market companies, choose a global leader in cloud communications by adopting RingCentral Office.
Popularity of Unified Communication Platforms in 2020

Two years ago, according to Google Trends, Avaya and RingCentral had similar search interest, while Mitel and 8X8 were also neck and neck, but with much less volume. By the end of 2019, RingCentral growth was outpacing Avaya.
A large spike in search interest occurred in the second week of March for all brands. This correlates with the start of lockdowns nationwide, creating a panic for businesses with on premise phones. While interest in Avaya also increased, RingCentral searches exploded as many businesses looked to migrate to the cloud.
As of December 2020, RingCentral and 8×8 are now at the top of Google Trends in the United States. For 2021, we can expect a similar trajectory of hosted VoIP providers outpacing on-premise legacy brands.