Samsung Business Phone Solutions
A Distributor and Dealer of Samsung Business Communications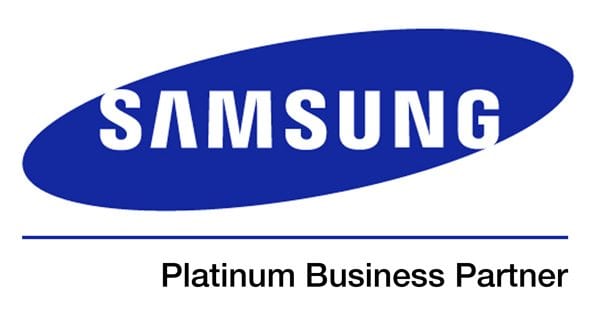 c2mtech is an authorized reseller of all Samsung phone models, phone systems and components. We offer an extended five-year manufacturer warranty on all Samsung equipment. Certified Samsung technicians install, configure and train your staff following every Samsung phone deployment.
Samsung OfficeServ Phone Systems

The Samsung OfficeServ 7000 phone system series combines traditional voice communication capabilities with IP and wireless data. The system can be used solely for analog, solely for digital, a hybrid VoIP deployment allowing for a mix of IP and traditional phone lines or a full VoIP only deployment. c2mtech recommends OfficeServ for most businesses, because it's truly a one size fits all single solution designed to meet the needs of any organization.

Compare each series and determine which is right for your organization on the Samsung Business website or contact us for a free consultation.

99% of OfficeServ features are available on any series, making the system highly scalable and a great value for small and mid-size businesses. Receive the same advanced software functionality of enterprise businesses.

The 7030 is entry level while the 7100 is a great fit for small business, the 7200 for mid-size and the 7400 for enterprise. Each system offers better performance and greater flexibility with the ability to support larger workforces of up to 1,000 connected sites and up to 480 extensions at a single location.

The Samsung OfficeServ Features:

Ease of use: A simple to use system with advanced features
An easy transition: OfficeServ integrates with any existing phone system or service
Highly compatible: OfficeServ phone systems can use analog, digital or VoIP phone receivers
Aligned for business growth: easy expansion with a modular design
Hundreds of built in features: free voicemail, automatic call routing, email gateway, free day and night greetings and more!
Supports a remote workforce: easily and efficiently connect remote workers
Advanced software applications: software that enhances productivity and is updated for free throughout the life of your OfficeServ implementation.

Samsung Phone Receivers

Although Samsung offers one flagship business phone system, the OfficeServ, there are a variety of IP, analog and digital phone models available.

c2mtech often recommends a mix of phones aligned with your users and office branches. Not every office or worker requires the advanced functionality in digital and VoIP phones which are at a higher expense. Fortunately, the OfficeServ supports all phone receivers.

The flexibility of OfficeServ also allows for a phased installation. Your business may desperately require a new phone system, but can't afford all new receivers. Likewise, you may have invested in new receivers only a few years ago, but require a new phone system. c2mtech will consult and design a phone system and receiver solution that meets the needs of any business.

c2mtech also recommends Samsung receivers paired with non-Samsung phone systems. The receivers are easy to use and feature more advanced features than many other receivers on the market.

Samsung IP Phones

VoIP phones offer internet enabled features, and are the most advanced phone receivers available, although at a higher cost than digital or analog options.

Samsung VoIP phones rival the competition, allowing for advanced communication, enhanced productivity and the best in call and video quality. There are currently 6 models of Samsung IP phones, including one wireless model, browse here. c2mtech can help you decide which models are best for your business and by department as several models are more suited for sales, executives and administration.

View several of the top features below:
• Supports the BYOD movement with fully enabled bluetooth, allowing for easy transfer of calls between headsets to the receiver and mobile devices to the receiver.
• Wired/Wireless internet compatible
• Video conferencing with built in screen and Caller ID with photo
• HD voice quality
• Deep and seamless integrations with smartphones and tablets

Samsung Digital Phones

Digital phones can still provide HD voice call quality are cheaper than IP phones, but aren't internet enabled and as a result have less functionality.

Samsung currently offers 6 models of digital phones, many are tailored to a function: sales, regular office worker, administration, etc. Browse Samsung's full line of digital phones or contact c2mtech for a free consultation and comparison.