Cambridge Sound Masking from Biamp
In 2017, c2mtech's technicians became a partner and certified installer of Cambridge Sound Masking equipment.

Cambridge Sound Masking was acquired by Biamp In 2018. An industry leader in noise cancelling speakers for the office, Cambridge is becoming a must have for employers returning to the office.
Sound masking is more than white noise. Improve acoustics in your workplace by adding ambient background noise through Cambridge speakers. Throughout Dallas Fort-Worth to Houston, c2mtech installs Cambridge products and solutions. Book an appointment and our sales team can demo Cambridge solutions virtually or in your office.
Economical for small businesses, the QT-100 is an entry level sound masking controller/system. Designed for single zone office space, retail shops and restaurants of up to 12,000 square feet. Combined with ceiling mounting Cambridge speakers, create a network to cancel background noise, improve office privacy and speech.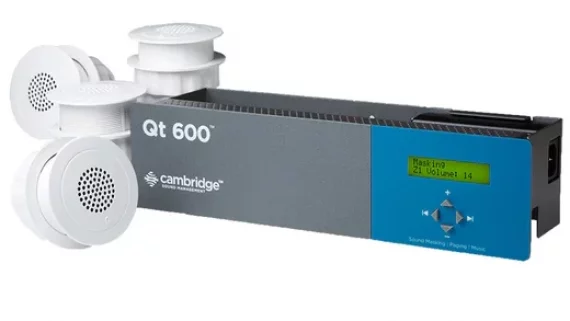 Qt X 300 & 600
The new QT 300 & QT 600 are sound masking controllers that can be integrated with paging systems, background music players and Cambridge loudspeakers. Work with c2mtech for installing controllers and mounting speakers into ceilings for multi-zone coverage. The QT 300 & 600 are compatible with medium to large office buildings.
Cambridge's enterprise solution for sound masking offers far more control over speakers and software allows for eavesdropping protection. Adjustments to each zone, the entire network or individual speakers is possible. DynasoundPro can further be installed in the plenum space, either above the ceiling or even below raised flooring.
Cambridge Sound Masking + c2mtech
Whether you are retrofitting your current office, moving into a new corporate campus, or building new construction, Cambridge Sound Masking works in a variety of environments. Keep conversations between employees private, especially important for protecting Intellectual Property. Follow HIPPA compliance by getting sound masking installed in medical clinics to healthcare practices.
With the return to the office, employers are relying on sound masking to improve productivity and satisfaction. A percentage of hybrid workers still view working from home as superior to an office. When surveyed, many employees prefer to work from home with office distractions as one of the main reasons.
Returning to the office after more than two years surprised me. After working from the relative quiet of home for so long, suddenly all the background noise became… noisy.
Many of c2mtech's clients add-on sound masking to an existing installation of wireless access points, cabling upgrades and conference room design.