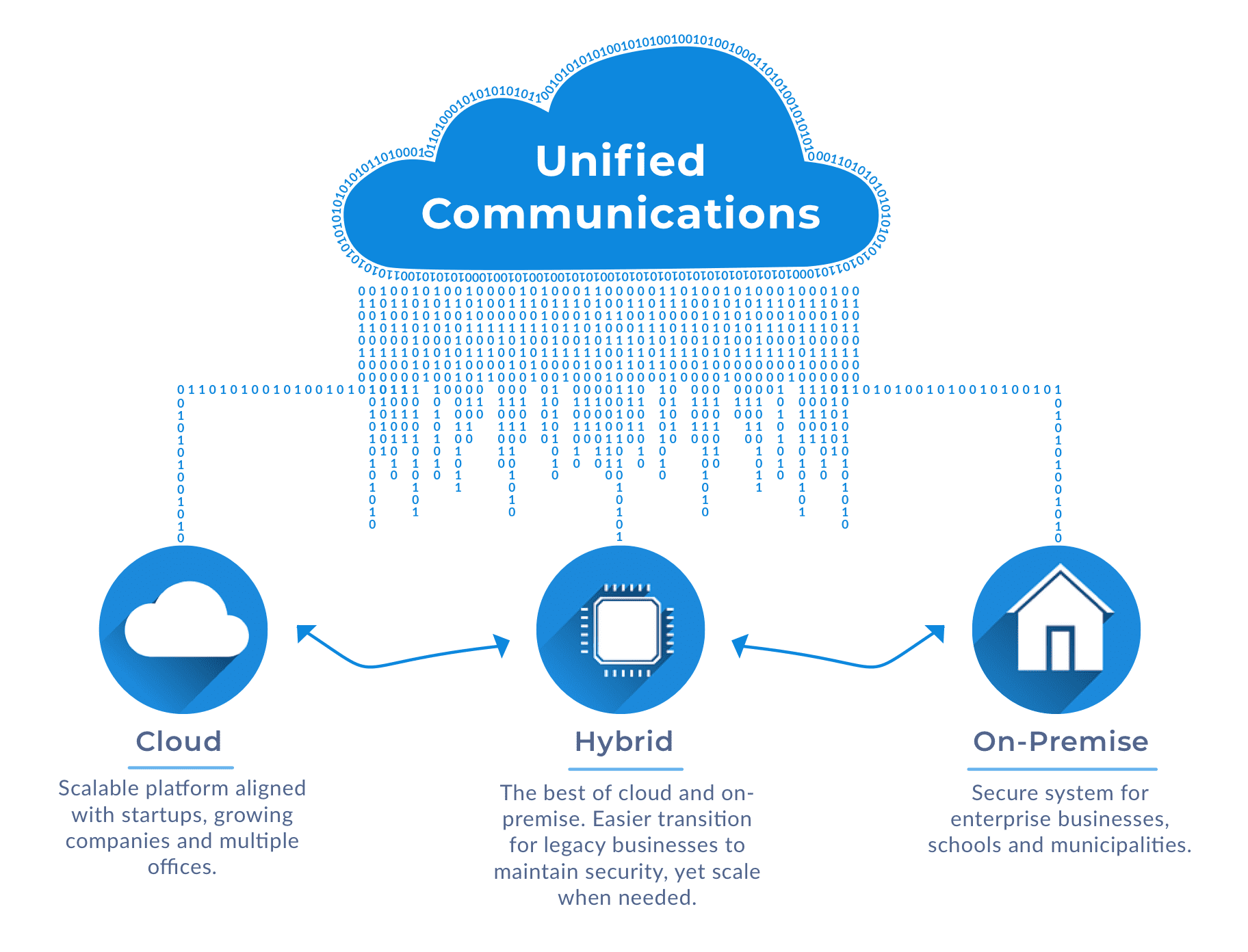 A common decision at many IT departments is whether to migrate phone systems to the cloud, keep on-premise phone infrastructure or adopt a hybrid model. One size does not fit all. Despite the hype of VoIP, moving 100% to the cloud is a difficult decision and may not be in your best interest.
At c2mtech, we offer services and partnerships in all three areas. Our team can provide an unbiased analysis of each model, with pros and cons defined for your business. Choosing between cloud vs. on-premise vs. hybrid depends on the health of your current infrastructure, business growth, number of locations and many other factors. Below we've defined several differences between each option.
Hardware purchased upfront and requires installation. Equipment can also be leased, still allowing for total ownership
Requires maintenance of system, upgrades and phone service plans
Service outages are rare, ideal for critical voice communication. Power outages can affect VoIP systems
Secure system with all hardware located on-premise, limiting scope of a security breach
Less communication features are available on digital phone systems. Vendor selection can be more difficult compared to cloud phone systems
Separate cabling required for data and voice communication can increase infrastructure costs
Can be expensive to maintain, especially with employee growth and business office changes
Provides full ownership of phone system as a fixed cost with phone service plans and VoIP service contracts by employee
Requires installation of hardware, plus maintenance, software and upgrades. Phone system is flexible and can handle digital and IP voice communication
Mix of IP and digital phone features depending on configuration needs. Doesn't require network for voice communication for improved call quality.
Hybrid phone systems can be installed in a single location or across multiple offices. One option is for the company headquarters to remain on-premise with satellite offices 100% in the cloud.
Monthly fee by employee includes phone service, installation and maintenance
100% Voice over IP (VoIP) communication with voice and data sharing cable connections
Unified communications: ability to call, video chat, SMS chat, and conference all via smartphone app, computer and desk phone
Hardware requirements are minimal, desk phones require power and ethernet connection
Call quality can suffer with poor internet speeds and bandwidth. Upgraded cable can deliver better call experience
Lowest upfront cost, but no ownership of phone system can be more expensive long-term.