As the coronavirus pandemic swept the world, the way we lived and worked changed overnight.
Companies with employees in the office everyday were suddenly forced to find ways for everyone to work from home. While businesses deemed "essential" have had to adapt to social distancing guidelines.
In recent months, c2mtech has seen an uptick in demand for technology that supports remote teams, video conferencing and mobile communication.
But what exactly will the future hold? What will a post-coronavirus office look like?
Work from home: Embracing modern communication technology
MIT found that 34 percent of Americans who previously worked in an office were working from home in the first week of April. The pandemic made Zoom a household name, with downloads increasing for mobile users by 740% in April. Personal use of video conferencing has increased during lockdown, but many workplaces are also adopting Microsoft Teams, Google Meet, 8X8, RingCentral Rooms and other video conferencing subscriptions. This is signifying a bigger shift toward virtual meetings with remote employees and clients.
When the pandemic is over, experts predict growth in a remote workforce. More of us will telecommute, live in different cities from our employer and work from home frequently. Some companies will even decide to operate 100% virtually in the future.
Five years ago, virtual offices may have seemed impossible for business operations. But, as Forbes has pointed out, this just shows how advanced we're getting in terms of cloud technology, apps and remote working tools — and also faster and more reliable voice and data connections.

At c2mtech, we have partnered with several cloud-based IP phone systems that support conferencing, chat, mobile apps and phone communications — including Mitel, RingCentral  and ESI. Migrating to unified communications can offer professional tools to stay connected to employees and clients. It further untethers technology from a desk, cubicle or office.
Work in the office: Acceleration of existing office trends
Many workers will want to return to the office, for better productivity, face-to-face collaboration and for company culture. But few will be returning to the same open-concept office they left in March.
After the 2008 recession, open-office plans became popular to save money by squeezing more workers into smaller spaces. But sitting elbow-to-elbow led to a more distracted workforce and has been falling out of favor for the past several years.
At c2mtech, we have seen the shift firsthand with our partner Cambridge Sound Management. In recent years, there is growth in sound-masking A/V systems. Sound masking reduces audio distractions, creates more privacy and is popular in large, open-concept offices.
With fewer employees in the office, the need for more physical privacy in the office will increase. New office layouts could change that encourage social distancing with employee desks at least 6 feet apart.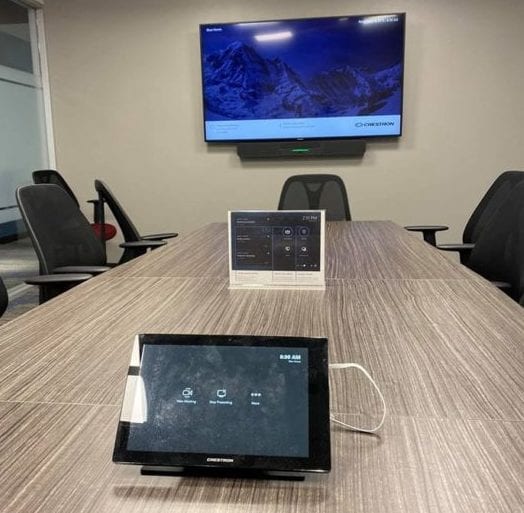 In recent years, c2mtech has experienced growth of fiber connections, high-speed wireless internet and cabling for VoIP. For 2020, this trend will only accelerate as companies adopt technologies that support remote, mobile, and work from home employees.
Collaboration between virtual and in-office employees can happen effortlessly with the right technology portfolio. Company wide meetings and smaller team based meetings will never be the same. Outfitting meeting rooms and conference rooms for modern A/V and controls is necessary. Businesses deserve fast, reliable and secure connections with HD audio and video.
Recently, c2mtech became an authorized reseller for Newline Interactive, which provides touchscreen displays with advanced meeting tools. Newline supports BYOD and is compatible with all video conference providers.
In whatever way your office changes during and after this pandemic, c2mtech can provide the solution. Bring us your unique office concerns, and we will do what we do best: make technology easy for you.